上記の広告は1ヶ月以上更新のないブログに表示されています。
新しい記事を書く事で広告が消せます。
Do you know Japanese Calligraphy (shodo)?
This is what all Japanese kids learn in elementary schools. They will learn how to sit still and to achieve one thing that seems very easy to achieve (but it is not).
(I practised a lot when I was a kid... It was struggling!)
(It is very hard to be good! Practice makes perfect.. I hope)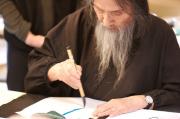 (It will take whole life to be a shodo master...)
The History of Japanese calligraphy has been heavily influenced by Chinese calligraphy.
We already started the history of calligraphy in the 4th century, which is before Hiragana and Katakana were invented in Japan!!
In contemporary Japanese culture, Shodo became some kinds of performance art, with music and dancing.
full on!!
You need to have many tools for Japanese calligraphy. Probably pens (big and small) and ink (in bottle) and paper (special for shodo) could be enough to start Calligraphy. However, if you want to follow Japanese traditinal rules, you need whole calligraphy set.
1. Suzuri: Ink Container made from black stone: That is heavy the hell!!
2. Bunchin: This is a metal bar to press the paper down so that paper does not move while you are writing.
3. sumi: The hard block of ink (not liquid). we used to mix this with water and disolve it to make liquid ink, taking about 10 minutes.
See? Calligraphy set weights a lot!! It was too heavy for elemetary school kids, at least I found it heavy!!
Anyway, you need years and years to aquire enough skills of shodo.. I advise you to start as soon as possible if you are interested in..
sayonara-kkyo!!
oh, you can find some
calligraphy tools on Ebay
too.
please click this if you enjoyed..
スポンサーサイト