上記の広告は1ヶ月以上更新のないブログに表示されています。
新しい記事を書く事で広告が消せます。
Fujisaki-gu Autunm Festival in Kumamoto!!
September is festival (matsuri) seasons in Japan. Normally matsuri is held in September or sometime in Autumn because mainly matruri is to cerebrate our farvest. I saw a lot of Japanese fans, lanterns and umbrellas today!!
However, this Fujisaki-gu festival is different. This festival was initially cerebrating our victory in our war against other countries.
We used to call this festival "boshita". This word was derived from "horoboshita", which means "destroy".
We stopped using this word considering the human right of the people who lost the war at that time!! (How considering we are!!!! Too kind of us)
Of course, people never see this festival like that and just enjoy the craziness of the festival, yelling, getting pissed, and leading a drunked horse.
Here are some photos for that festival.
This pic might help you to grasp the tension of this festival...
As you can see the photo above, so many men are needed to lead one big horse as 200,000 Kumamoto people visit this festival and watch this besides the road..
Apparently, they feed the horses Japanese Sake so that horses get more excited, entertaining watchers!!
Participating this festival is great honour in Kumamoto!! If you want to join any group, you need to have valid connection to Kumamoto people..
Mainly, organisations and highschools and communities in kumamoto form the groups to participate in..
I participated in this festival when I was 10 because my mum graduated from one high school in Kumamoto!! It was a lot of fun!!
See kids are also enjoying this festival, looking after the pony very well.
Actually people are very caring and look after horses very well. They normally pad them not to scare them.. It was very nice to see many horses too.
little kids can sleep in the middle of this craziness and loudness... look at his mohawk very cute
Note that so many traditional Japanese outfits could be found here.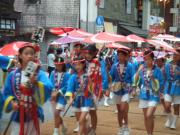 sensu (folding fan), wagasa(paper umbrella) and chochin (paper lanterns).
Japanese Fans (sensu)
Japanese Umbrellas
Japanese Lanterns
are available
here
.
sayona-rakkyo
スポンサーサイト
テーマ:Japanese Art and Culture - ジャンル:学問・文化・芸術